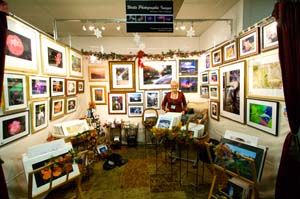 THERESE MARIE WATTS
---
Landscape and Wildlife Photographer
Therese is the webmaster and procurement specialist of the Watts Photographic Images team. Over the last 30 years while traveling worldwide with her husband Reid photographing the natural beauty of this planet, she has developed her own photographic style. Trained originally in black and white silver halide photography, she has now made the switch to color and digital, giving her a wider pallet to capture her love for animals, flowers, and natural scenery.
Therese was employed in the high-tech industry for many years and is highly skilled in the technologies she now uses in producing her photographs.
Artist Statement
"In my images I'm always trying to look for the little things going on that others might miss. I use my photography to capture and share the beauty of nature, the joy of living, and the good memories and feelings a photograph can bring. I hope my photographs will bring a little smile to your face as you remember or dream about places you've been or long to go, or are reminded of the wonders of nature that we're so blessed to enjoy."