What is that creature?
---
The most common question we get about Images 2, 3, & 4 is "What is that?"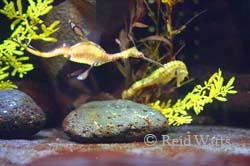 In reply, I like to ask:
"What do you think it is?"
Almost everyone guesses some kind of seahorse. This is actually a pretty good answer, as the pictured creature is related to the seahorse and other pipefish, but this is a seadragon.
---
How do seadragons differ from seahorses?
They are not seahorses and differ from seahorses in that they have appendages.

It is from these appendages that the seadragons derive the names weedy and leafy.

These appendages are not used for propulsion, only camouflage.

The seadragons propel themselves with their pectoral and dorsal fins like seahorses.
Like seahorses, the male carries the fertilized eggs, but in the case of seadragons the eggs are kept under the tail.

Unlike the seahorse, they have no brood pouch for rearing.
Unlike seahorses that coil their tails and use them to grab objects, the seadragons tails do not coil up.
---
Where do seadragons live?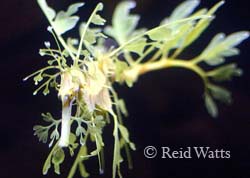 Seadragons are native to the waters of the southern and western coasts of Australia.
We have photos of both the weedy and the leafy seadragon, the only two seadragons that are known.
---
How big can seadragons get?
The weedy seadragon is longer than the leafy. If is not unusual for a weedy seadragon to attain a length in excess of ~18" but the leafy seadragon is usually under 13". The weedy seadragon we display at shows is pretty close to the actual size of the photographed creature.
-Therese & Reid
return to Creatures of the Sea index