Vancouver to Whistler Hints and Tips:
---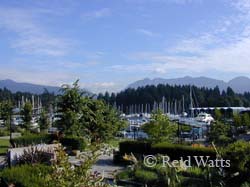 Vancouver is an lively and modern cosmopolitan city with a diverse population. Activities are almost endless, so I'll just mention a few of my favorite things.
Be sure to take some time to visit beautiful Stanley Park. It is situated by the Lions Gate Bridge. The rightmost lanes go to the park instead of crossing the bridge. If driving, first take the drive around the park to get a feel of what awaits. The drive is about 6 miles around, and the traffic flow is one way.
There is always some activity going on in this beautiful 1000 acre park. There are viewpoints, totem poles, gardens, beaches, play areas, walking paths, and dining. In addition, a variety of art events take place in the park, so be sure to check a local event schedule. While entry to the park is free, you must pay to park. You can purchase an all day parking permit, or pay for only a couple hours. Park, then look for the parking kiosks where you'll obtain a permit that you must leave on your dashboard.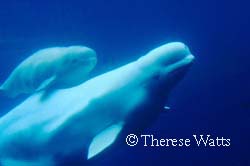 Canada's largest aquarium, "Vancouver Aquarium" is located in Stanley Park. There is an admission fee for entry. You can easily spend the better part of a day here. The aquarium has both an inner and outer area, so bring along an umbrella if rain is in the forecast. During our visit, we had the joy of seeing a one month old female baby beluga calf and her mother Aurora. It was fun to watch them interact. They can be viewed both from the ground level outdoor area and the indoor underground area. A visit to the aquarium is a good way to learn about the local marine life.
Once you've explored the city, why not set out on the breathtaking Sea to Sky Highway for a trip up to Whistler. Along the way you'll have the opportunity to experience breathtaking scenery and to stop and see a couple impressive waterfalls.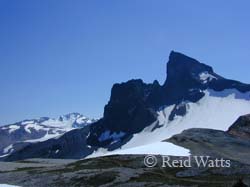 Whistler is a busy place regardless the season. The winter brings world-class skiing and the summer brings out the climbers, hikers, mountain bikers, and off-roaders. If the mountain biking looks a little rough for you, rent a bike and enjoy one of the many bike trails in the valley. You can escape some of the hustle and bustle of town on one of the many lakes of whistler or taking a nice long hike. In the summer, take a walk through the alpine meadows and enjoy the wildflowers. There are a variety of trails available off the operational lifts at Whistler Village. If you're not up to walking, just go up the mountain lift and enjoy the scenery. The peak to peak tram will take you over a beautiful evergreen forest, and you can even queue for a glass bottom tram car to enjoy this scene. From Rendezvous on the Blackcomb side of the mountain, take the shuttle to the Seventh Heaven chairlift, and take a ride up to get a little taste of winter in the middle of summer, or better yet, grab some skis and take a few runs on the Blackcomb glacier. (Check for summer ski hours.) Several of the hiking trails will take you through beautiful alpine meadows. Consult the hiking trail map for recommended trails, recommend hiking direction, distances, and estimated time to plan for the hike. Remember to bring along a jacket, hat, gloves, and sunglasses. You are at altitude and the temperatures can be quite blustery. This is especially true at Seventh Heaven, as riding the chairlift, you will exposed to the weather, and as you reach the top you will be at the glacier and the snow and ice really cool things down.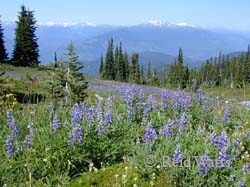 On weekends, watch for mountaintop dining specials. The lifts run longer on weekends, so be sure to check the lift hours before setting off on your hiking adventure.
If flying international out of Vancouver, make every attempt to arrive at the airport about 3 hours before your flight. Arriving more than 3 hours in advance is not helpful, as you are not allowed to check in more than 3 hours in advance of your flight. In my experience, if you leave only 2 hours, you'll be biting your nails wondering if you're going to make your flight. Part of the problem is that you will be going through U.S. customs in the airport, so there are more lines than normal to navigate through, and the lines usually are excessively long and slow. Once you've passed the airline check-in at the desk, you will be hauling all your luggage as you pass Canadian Customs, US Customs, and US security. You are not allowed to use the rental trolleys beyond the airline desk check-in, so don't even bother wasting your money to rent one. We have left from Vancouver on multiple occasions, and we have always experienced a long slow crawl through what seem like endless lines. On our last trip, none of the self check-in kiosks could complete the check-in process, but there were no signs or other indications that this was the case. This caused further confusion as most passengers would first go to the non-functional machines and try multiple times, before realizing they had to stand in line for check-in. It seems to me that we've encountered this same problem here before. I suspect that the machines may not work if you're flying international, but some sign to indicate their status would be nice. Heed my advice to get their early, keep your patience in check and you'll make your flight.
Update: The situation in the Vancouver Airport seems to have improved significantly. As of our 2010 trip, the check-in machines worked, carts were allowed until we off-loaded our checked bags, and more security checkpoints seemed to be available. However, this impression may be influenced by the fact that we had an early morning flight. I could hardly believe that we made it through to the gate in just under 30 minutes! Perhaps the 2010 Olympic crowds helped influence the noted improvements.
Happy cruising!
-Therese & Reid