Skagway Cruise Hints and Tips:
---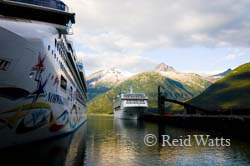 Skagway is one of our favorite stops. Within a short drive, you can enter the Canadian Yukon Region and begin to discover the life of a prospector.
A favorite trip for cruisers visiting Skagway is the White Pass and Yukon Railway which you can board just a short walk from your ship. Arrangements for this trip are best made ahead of time, as this is a very popular venue. While we've never taken it, cruisers who have say it's outstanding, and driving the adjacent route we can understand why. Our photographs attest to the beauty of the regions of Alaska, British Columbia, and the Yukon that are within a short ride along the South Klondike Highway.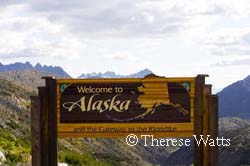 These are the lands that the prospectors lived and died in while seeking their fortunes. If you're staying for awhile, you may even choose to walk the Klondike trail. Many reminders of the beauty and harshness of the region remain. While driving or hiking this route, keep your eyes peeled as it is not at all unusual to site bears, especially once your reach the British Columbia/Yukon lake country.
While the coast of Alaska was just beginning to show signs of the approach of autumn, a short ride away autumn was in its full glory! The lush coast gives way to a rocky region of lakes and moss, and soon to forested areas, waterfalls, and even a tiny desert. Bring along a jacket as the temperatures can drop rapidly as you move inland.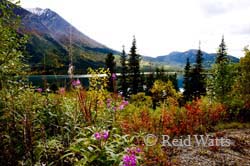 Whatever time of year you cruise Alaska, you will find the natural beauty of this region awesome. The summer months will greet you with an abundance of wildflowers, as the fall greeted us with the a riot of color.
Hope you enjoy our shots from our Skagway cruise stop. They are our favorites!
Happy cruising!
-Therese & Reid