Denali National Park Hints and Tips:
---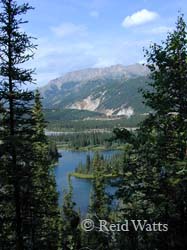 On days when the weather is good, Denali National Park affords one breath taking scene after another. Denali is a massive park with a single access road running through it. Private vehicles are only allowed to drive the first 15 miles. While the drive can be nice and affords some glimpse of the wildlife, the best scenery and the most active wildlife lies beyond the part that can be driven. The mountains of Denali form a very large bowl which surrounds and captures much of the wildlife, but most of that bowl can only be seen by using the park-run shuttle bus system.
You can reserve bus tickets for your Denali visit in advance. The advantage of this is that you know you have the tickets for your desired time of day. The disadvantage is that you have a reservation for one particular time slot come rain or shine. On our very first trip to Denali, we reserved everything in advance, and the day of our planned bus tour it rained...and I mean rained hard all day. When we got up to the Eielson Visitors Center (mile 66), we were so socked in with fog that you could not see a thing! Our bus driver was apologizing most of the day for our failure to see much wildlife as well. Fortunately near the end of our ride, we came upon a herd of Dall sheep not too far from the road, but for the cost of the tickets and the length of time we spent riding in an old school bus, I'd have to say we were somewhat disappointed. Since that time, we no longer reserve the bus in advance. Instead we wake up early and go purchase our tickets if the weather looks good.
Ideally, you want to stay around Denali for several days to improve your chances of getting a view of the Great One (aka Denali or Mt. McKinley, altitude 20,230'). While we have seen Mt. McKinley, whenever we're around she doesn't seem to stay out for long! You might find that you have a better view of the mountain from Denali State Park on the south side of the mountain, than you do from within Denali National Park.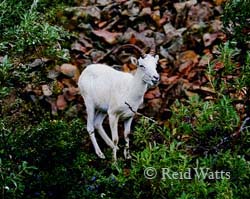 In general, your best chance for seeing wildlife is early in the morning or late in the afternoon, although we have encountered wildlife at all times of day. You may wish to take this into account in planning your trip, but remember that many of the bus rides last the better part of the day. (Round-trip park bus rides last from 5 to 12 hours.) If you're planning to go to Kantishna, the furthest ride (mile 90), you probably will need to make your reservations in advance. The number of buses making this run are limited, and it seems like they are often full. Fully narrated bus tours are also available.
While I understand why Denali has a shuttle bus system, I also find it takes away from the total peace and beauty of the nature experience to be packed on a school bus all day with a bunch of strangers, and it often can be difficult if not impossible to photograph through the windows. While the windows do open, keeping them open and ready to shoot can be a challenge since you're sharing the bus with others that may find open windows uncomfortable. The advantage of this form of travel however, is that you have lots of eyes watching for movement. The drivers also have local knowledge of where the animals like to hang out, and are a big help in spotting activity. The drivers will stop for sightings and try to stay around long enough for everyone to have a good look. You are not allowed off the bus to photograph sightings, but you can get off the bus to hike whenever you like. However, once you give up your seat...your bus trip is on a stand-by basis. However, getting off the bus and taking a hike is one of the best ways to get away from people while in Denali.
If you plan to ride the park shuttle buses, be aware that you need to bring along your own food and beverages. If you bring a cooler, it must fit under the bus seat. The shuttles are basically school buses, so there is a limited amount of room for storage.
For a more serene wilderness experience you might choose to either camp in Denali or stay in Kantishna. Another alternative would be to explore and sign up for one of the many activities taking place in Denali for which special permits are issued.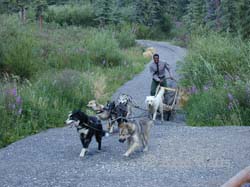 If you'd like to learn about dog sledding (mushing), check for the times of day when demonstrations will be held. At other times, visit the kennel to meet some of the sled dogs. The park offers free bus service to the kennels.
When walking through the park, be aware that you are in bear country, so stay alert and be sure to read and follow the bear encounter tips that seem to be posted everywhere.
Happy cruising!
-Therese & Reid